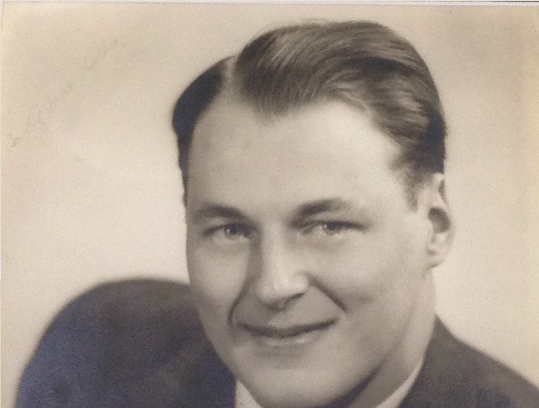 Frank Wyss was a Knight of Bahá'u'lláh. He did not engage in physical warfare. That was not the kind of knight he was. A Knight of Bahá'u'lláh engages in a spiritual battle – primarily a battle against self. The title was granted to those who arose, in response to plans set by Shoghi Effendi in 1953, to take the Baha'i Faith around the world.
Frank Wyss was part of a remarkable generation of Australian Baha'is – at the time a vanishingly small — but audacious community. In the 1930s Baha'is of Australia and New Zealand elected their first National Spiritual Assembly – one of the earliest on the planet. When the call came from Shoghi Effendi for Baha'is to settle in countries all over the world, Australia was assigned goals in the Pacific and Indian Oceans. Loyalty Islands, Cocos and Keeling Islands, East Timor, Admiralty Islands, Society Islands. The names are unfamiliar but most are now independent nations. Australia was also given the task of undertaking translation of at least a pamphlet into 40 languages, 24 of which had been completed by December 1955. But this was just the beginning.
In February 1956, Shoghi Effendi was writing to Bertha Dobbins and her husband, congratulating them on the success of their work in teaching the Baha'i Faith in the New Hebrides (Vanuatu). Soon one of the first local Baha'i Houses of Worship will be built in Vanuatu.  A few years earlier Greta Lamprill and Glad Parke settled in Society Islands (now French Polynesia). Alvin and Greta Blum had started a life in the Solomon Islands. Harold and Florence Fitzner left for Portuguese Timor (now Timor Leste). Vi Hoekne became the founder of the Baha'i Faith in many places in Papua New Guinea, now a strong Baha'i community. These are the kind of people who became "Knights of Bahá'u'lláh" – ordinary – not possessed of great talent or resources – but able to overcome their own sense of personal limitation to have the courage to undertake the impossible.
Frank Wyss was among them. He became a Baha'i at Bowral High School, hearing of it from his fellow students Antoinette, Mariette and Stanley Bolton. He became a Baha'i, with his sister Lillian at the Yerrinbool Baha'i School in 1944.
He became a Knight of Bahá'u'lláh when he arose to settle in the Cocos Islands, where he arrived on 4 June 1955. Despite his efforts, his arrival was not welcomed by the local administrator of the island, who had him sent back to Australia. Despite this, the fact that Frank had arisen resulted in his recognition as a Knight of Bahá'u'lláh.
Unlike other people whose stories have featured in these articles, I knew Frank Wyss personally. Many people will know Frank Wyss much better than I did, but for me, he was a formative influence. I still remember him fondly and wish his wisdom was here among us.
It was in the struggle against ego that I got to know him – not his – my own. He was for many years the Chairperson of the Local Spiritual Assembly on which I also happened to be serving. His task as chair was to guide a group of people who loved Bahá'u'lláh in their consultation with each other – to unity. It is a process that demands selflessness. It is not something we are born with – we learn it over time – and it is often a struggle to overcome self.
Frank, unlike what many chairs do, did not suppress any of us, or seek to impose his will on the collective. He was not "the boss". He played the role of guiding light. He stood aside from the matter at issue drawing our attention to an emerging consensus. He was a wonderful example of Baha'i life. In his professional life, he was a chiropractor. He did not speak of his title, although we all knew what he had done in his youth. On one special occasion, he spoke of his time visiting Shoghi Effendi, and anointed with us attar of rose that he still kept from that time. It had been given to him by Shoghi Effendi.
In June 1989 another Australian, Sean Hinton settled in Mongolia, an unfulfilled goal from the 1950s, becoming Knight of Baha'u'llah for that country. In 1990, when two Baha'is settled on Sakhalin Island, the last goal set by Shoghi Effendi was achieved. In 1992, to mark the centenary of the passing of Bahá'u'lláh, a scroll of honour was deposited under the threshold of the inner room of the Shrine of Baha'u'llah. On it was inscribed the names of 254 Knights of Baha'u'llah.  Among those names was the name Frank Wyss.
---
Source:  Messages to the Antipodes, Communications from Shoghi Effendi to the Baha'i Communities of Australasia, Edited by Graham Hassall
(This article is the 186th in a series of what I hope will be 200 articles in 200 days for the 200th anniversary of the birth of Bahá'u'lláh. The anniversary is being celebrated around the world on 21 and 22 October 2017, The articles are simply my personal reflections on Bahá'u'lláh's life and work. Any errors or inadequacies in these articles are solely my responsibility.)