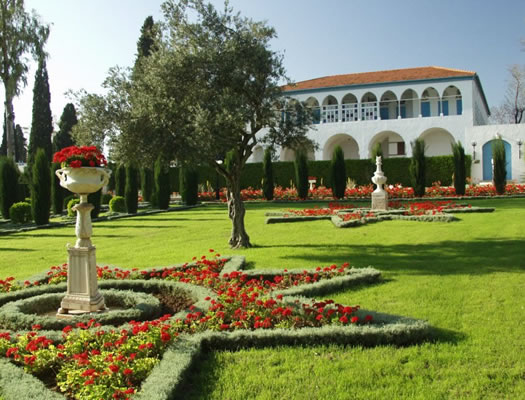 In a previous article we explored Bahá'u'lláh's immediate departure from the prison city of Akka. Although absolute monarchs had ordered his perpetual imprisonment, in the end, the love those around him had for him, including government officers, opened the gates of the prison city and Bahá'u'lláh left the city. No one tried to stop him.
In 1879 Bahá'u'lláh and his family moved to a large house known as the Mansion of Bahji. After a lifetime of suffering, Bahá'u'lláh's final years were spent in this beautiful residence, though the gardens that now surround it were not there during Bahá'u'lláh's lifetime. Nonetheless, the house was in the countryside and nature beloved by Bahá'u'lláh.
Bahá'u'lláh's move to the Mansion of Bahji came about as follows. Just before the move an epidemic had broken out in the region and the local people panicked moving away. Many fled and some died in the epidemic. The Mansion of Bahji had become vacant and Abdu'l Baha was able to arrange to rent it for his father and it was later purchased.
Here Bahá'u'lláh was able to spend his final years, continuing his work of sending out guidance for humanity approaching its maturity.
When Bahá'u'lláh passed away he was buried in a small building that had in the been built near the house.
This site is now the spiritual heart of the Baha'i Faith. Over the years the Mansion has been restored to its original condition and the site has been surrounded with gardens stretching in all directions.  A beautiful reception centre is now the starting point of visits to Bahá'u'lláh's shrine.
When Baha'is recite their obligatory prayers, they face this spiritual centre. To enter this shrine is to enter a literal and metaphorical garden – a garden within a garden. It is dignified and beautiful. Of utmost simplicity and profound spirituality. To be there is to be in one's spiritual home. To walk its grounds – along pathways of crushed stone leading to the shrine – is itself a haven of prayerful reflection.  Even to recall moments spent there brings peace to the heart.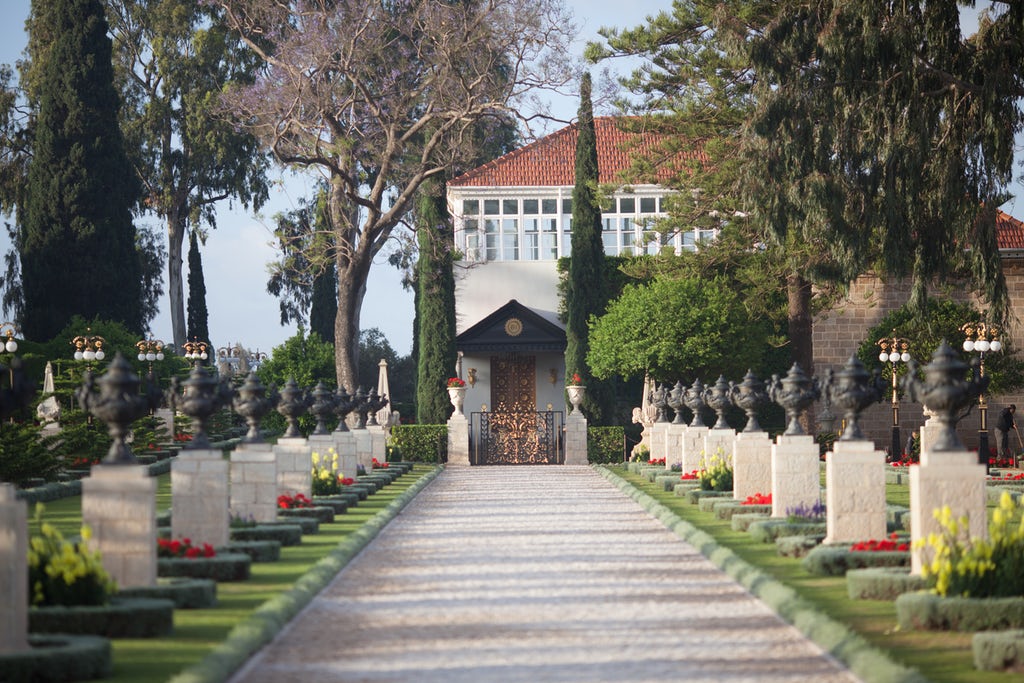 ---
(This article is the 180th in a series of what I hope will be 200 articles in 200 days for the 200th anniversary of the birth of Bahá'u'lláh. The anniversary is being celebrated around the world on 21 and 22 October 2017, The articles are simply my personal reflections on Bahá'u'lláh's life and work. Any errors or inadequacies in these articles are solely my responsibility.)
Source: Adib Taherzadeh, Revelation of Bahá'u'lláh, Volume 4, Chapter 7.
Image Credits: A view of the mansion today from the south. The Bahá'í community has spent many decades beautifying the buildings and grounds where Bahá'u'lláh spent the final years of His life.
https://www.bahaullah.org/bahji/lofty-mansion
Copyright © Bahá'í International Community
Pathway to the Shrine of Bahá'u'lláh
Image link: http://media.bahai.org/detail/1326372
Copyright © Bahá'í International Community