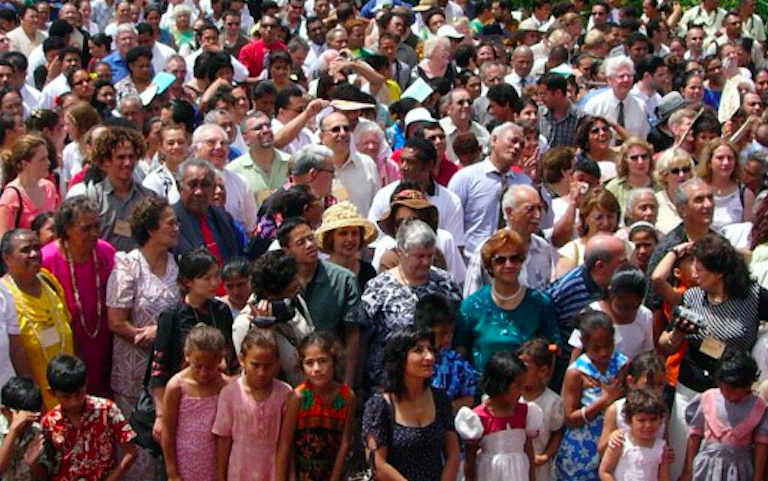 While Bahá'u'lláh, a persecuted prisoner of the Ottoman Sultan, was promulgating his universal teachings of the oneness of humanity, wholly different and toxic doctrines were taking hold in western thought.
Racism was emerging as scientific and intellectual orthodoxy and was to reach its horrific nadir in the holocaust of World War II. Europeans held dominance over their fellow human beings as colonial powers – a dominance often misused. A strict racial segregation and hierarchy was the reality of race relations in America. The flowering of European material culture seduced many with the idea of inherent "white" superiority.
So at odds is racism with Bahá'u'lláh's teachings that the concept does not appear in Bahá'u'lláh's works available in English translation. Yet the intent and meaning of Bahá'u'lláh's teachings is clear.
From Bahá'u'lláh's early mystical writings:
Know ye not why We created you all from the same dust? That no one should exalt himself over the other. … Since We have created you all from one same substance it is incumbent on you to be even as one soul, …[1]
And later:
He Who is your Lord, the All-Merciful, cherisheth in His heart the desire of beholding the entire human race as one soul and one body.[2]
Ye were created to show love one to another and not perversity and rancor. Take pride not in love for yourselves but in love for your fellow-creatures. Glory not in love for your country, but in love for all mankind.[3]
And from Bahá'u'lláh's own 1891 summation of his teachings:
Ye are the fruits of one tree, and the leaves of one branch. Deal ye one with another with the utmost love and harmony, with friendliness and fellowship.[4]
Here, racism has no place. Accordingly, Baha'u'llah writes:
Close your eyes to racial differences, and welcome all with the light of oneness.[5]
As the first westerners became attracted to Bahá'u'lláh's teachings there was no question that racism would need to be addressed. Abdu'l Baha, Bahá'u'lláh's son, who led the Baha'i Faith after Bahá'u'lláh's passing, took on this task.
How he addresses racism is a fascinating case study in constructive social action. Abdu'l Baha's approach addresses a societal problem while bringing people together at the same time.
It was part of a broader program of action initiated by Abdu'l Baha in which we see something extraordinary. An aged spiritual leader, Abdu'l Baha, who all his life had been a prisoner and exile, was at last freed from the control of an oppressive regime.
He travels to the West, and through the lens of Baha'u'llah's teachings, he sets about addressing the problems besetting modern society.
In tomorrow's article we will see this in relation to the specific case of racism.
Addressing racism was part of a broader program that included addressing the oneness of humanity, oneness of religion, equality of men and women, harmony of science and religions, peace, extremes of wealth and poverty, universal education and the balancing of material and spiritual in society. These were all core principles that Abdu'l Baha drew from Baha'u'llah's writings and life; and the needs of the time.
Image Credits: From Gathering at the Baha'i House of Worship in Samoa http://media.bahai.org/detail/3724916© 2017 Bahá'í International Community
(This article is the 16th in a series of what I hope will be 200 articles in 200 days for the 200th anniversary of the birth of Bahá'u'lláh. The anniversary is being celebrated around the world on 21 and 22 October 2017, The articles are simply my personal reflections on Bahá'u'lláh's life and work. Any errors or inadequacies in these articles are solely my responsibility.)
Farsi Translation:
http://www.noghtenazar.org/node/1535