This page provides extracts from some religious and non-religious ethical teachings and documents that relate to the the themes explored in this website. The concept of the fundamental 'brotherhood' of human beings, the shared duty to care for others, and the right of all human beings to just treatment is widespread.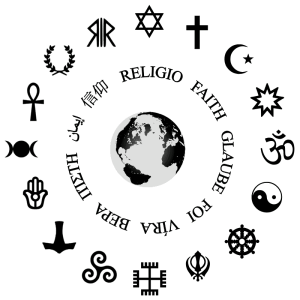 Belief and Foreignness: Contents
Declaration for a Global Ethic
Hinduism
Judaism
Buddhism
Christianity
Islam
Sikhism
Baha'i Faith
Humanism
Human Rights
Other
Prepared by the Council of the Parliament of the World's Religions and endorsed at the 1993 Parliament of the Worlds Religions by Bahai's, Bhrama Kumaris, Buddhists, Christians, followers of indigenous religions, Hindus, Jains, Jews, Muslims, Neopagans, Sikhs, Taoists, Theosophists, Zoroastrians and Inter-religious Organisations [1]
We Declare:
We are interdependent. Each of us depends on the well-being of the whole, and so we have respect for the community of living beings, for people, animals, and plants, and for the preservation of Earth, the air, water and soil.
We take individual responsibility for all we do. All our decisions, actions, and failures to act have consequences.
We must treat others as we wish others to treat us. We make a commitment to respect life and dignity, individuality and diversity, so that every person is treated humanely, without exception. We must have patience and acceptance. We must be able to forgive, learning form the past but never allowing ourselves to be enslaved by memories of hate. Opening our hearts to one another, we must sink our narrow differences for the cause of world community, practicing a culture of solidarity and relatedness.
We consider humankind a family. We must strive to be kind and generous. We must not live for ourselves alone, but should also serve others, never forgetting the children, the aged, the poor, the suffering, the disabled, the refugees and the lonely. No person should ever be considered or treated as a second-class citizen, or be exploited in any way whatsoever. There should be equal partnership between men and women. We must not commit any kind of sexual immorality. We must put behind us all forms of domination or abuse.
We commit ourselves to a culture of non-violence, respect, justice, and peace. We shall not oppress, injure, torture, or kill other human beings, forsaking violence as a means of settling differences.
We must strive for a just social and economic order, in which everyone has an equal chance to reach full potential as a human being. We must speak and act truthfully and with compassion, dealing fairly with all, and avoiding prejudice and hatred. We must not steal. We must move beyond the dominance of greed for power, prestige, money, and consumption to make a just and peaceful world.
Earth cannot be changed for the better unless the consciousness of individuals is changed first. We pledge to increase our awareness by disciplining our minds, by meditation, by prayer, or by positive thinking. Without risk and a readiness to sacrifice there can be no fundamental change in our situation. Therefore we commit ourselves to this global ethic, to understanding one another, and to socially beneficial, peace-fostering, and nature-friendly ways of life.
We invite all people, whether religious or not, to do the same.
HINDUISM
Who hateth nought

Of all which lives, living himself benign,

Compassionate, from arrogance exempt,

Exempt from love of self, unchangeable

By good or ill; patient, contented, firm

In faith, mastering himself, true to his word,

Seeking Me, heart and soul; vowed unto Me,-

That man I love!
(Hindu, Bhagavad Gita (Edwin Arnold tr))
Trust me, mighty Dhrita-rashtra! trust me, lords who grace this hall,

Krishna pleads for peace and virtue, blessings unto you and all,

Slaughter not the armed nations, slaughter not thy kith and kin,

Mark not, king, thy closing winters with the bloody stain of sin,

Let thy sons and Pandu's children stand beside thy ancient throne,

Cherish peace and cherish virtue, for thy days are almost done!"
(Hindu, Mababharata (R. Dutt, abridged tr))
JUDAISM
19:34 But the stranger that dwelleth with you shall be unto you as one born among you, and thou shalt love him as thyself; for ye were strangers in the land of Egypt: I am the LORD your God
(King James Bible, Leviticus)
BUDDHISM
He has cast away Ill-will; he dwells with a heart free from ill-will; cherishing love and compassion toward all living beings, he cleanses his heart from ill-will.
((The Eightfold Path), Buddha, the Word (The Eightfold Path))
CHRISTIANITY
10:25 And, behold, a certain lawyer stood up, and tempted him, saying, Master, what shall I do to inherit eternal life? 10:26 He said unto him, What is written in the law? how readest thou? 10:27 And he answering said, Thou shalt love the Lord thy God with all thy heart, and with all thy soul, and with all thy strength, and with all thy mind; and thy neighbour as thyself.

10:28 And he said unto him, Thou hast answered right: this do, and thou shalt live.

10:29 But he, willing to justify himself, said unto Jesus, And who is my neighbour? 10:30 And Jesus answering said, A certain man went down from Jerusalem to Jericho, and fell among thieves, which stripped him of his raiment, and wounded him, and departed, leaving him half dead.

10:31 And by chance there came down a certain priest that way: and when he saw him, he passed by on the other side.

10:32 And likewise a Levite, when he was at the place, came and looked on him, and passed by on the other side.

10:33 But a certain Samaritan, as he journeyed, came where he was: and when he saw him, he had compassion on him, 10:34 And went to him, and bound up his wounds, pouring in oil and wine, and set him on his own beast, and brought him to an inn, and took care of him.

10:35 And on the morrow when he departed, he took out two pence, and gave them to the host, and said unto him, Take care of him; and whatsoever thou spendest more, when I come again, I will repay thee.

10:36 Which now of these three, thinkest thou, was neighbour unto him that fell among the thieves? 10:37 And he said, He that shewed mercy on him. Then said Jesus unto him, Go, and do thou likewise.
(King James Bible, Luke)
ISLAM
And serve God, and do not associate aught with Him; and to your parents show kindness, and to kindred, and orphans, and the poor, and the neighbour who is akin, and the neighbour who is a stranger, and the companion who is strange, and the son of the road, and what your right hands possess,
(The Qur'an (E.H. Palmer tr), Sura 4 – Women)
Righteousness is not that ye turn your faces towards the east or the west, but righteousness is, one who believes in God, and the last day, and the angels, and the Book, and the prophets, and who gives wealth for His love to kindred, and orphans, and the poor, and the son of the road, beggars, and those in captivity; and who is steadfast in prayer, and gives alms; and those who are sure of their covenant when they make a covenant; and the patient in poverty, and distress, and in time of violence; these are they who are true, and these are those who fear.
(The Qur'an (E.H. Palmer tr), Sura 2 – The Heifer)
They will ask thee what they shall bestow in alms. Say: Let the good which ye bestow be for parents, and kindred, and orphans, and the poor, and the wayfarer; and whatever good ye do, of a truth God knoweth.
(The Qur'an (Rodwell tr), Sura 2 – The Cow)
Ali (son-in-law of Muhammad, the last of the rightly guided caliphs, and first Shi'a Imam) instructions to Malik al-Ashtar (Governor of Egypt):
Infuse your heart with mercy, love and kindness for your subjects. Be not in face of them a voracious animal, counting them as easy prey, for they are of two kinds: either they are your brothers in religion or your equals in creation.

Nasr, Seyyed Hossein; Dabashi, Hamid; Nasr, Vali (1989). Expectation of the Millennium. Suny press. ISBN 978-0-88706-843-0.
SIKHISM
One Universal Creator God. By The Grace Of The True Guru: The One God is our father; we are the children of the One God. You are our Guru.
(Shri Guru Granth Sahib, Section 13 – Raag Sorat'h)
BAHA'I FAITH
O peoples of the world! The Sun of Truth hath risen to illumine the whole earth, and to spiritualize the community of man. Laudable are the results and the fruits thereof, abundant the holy evidences deriving from this grace. This is mercy unalloyed and purest bounty; it is light for the world and all its peoples; it is harmony and fellowship, and love and solidarity; indeed it is compassion and unity, and the end of foreignness; it is the being at one, in complete dignity and freedom, with all on earth.

The Blessed Beauty saith: 'Ye are all the fruits of one tree, the leaves of one branch.' Thus hath He likened this world of being to a single tree, and all its peoples to the leaves thereof, and the blossoms and fruits. It is needful for the bough to blossom, and leaf and fruit to flourish, and upon the interconnection of all parts of the world-tree, dependeth the flourishing of leaf and blossom, and the sweetness of the fruit.

For this reason must all human beings powerfully sustain one another and seek for everlasting life; and for this reason must the lovers of God in this contingent world become the mercies and the blessings sent forth by that clement King of the seen and unseen realms. Let them purify their sight and behold all humankind as leaves and blossoms and fruits of the tree of being. Let them at all times concern themselves with doing a kindly thing for one of their fellows, offering to someone love, consideration, thoughtful help. Let them see no one as their enemy, or as wishing them ill, but think of all humankind as their friends; regarding the alien as an intimate, the stranger as a companion, staying free of prejudice, drawing no lines.
(Abdu'l-Baha, Selections from the Writings of Abdu'l-Baha, p. 1)
O ye friends of this wronged one! Purify your eyes from beholding any as strangers. Do ye not see foreignness, nay rather, know all as friends; for with the observation of strangeness, the practice of love and unity is difficult.
(Abdu'l-Baha, Tablets of Abdu'l-Baha v2, p. 389)
O ye wise men among nations! Turn your eyes away from foreignness and gaze unto Oneness, and hold fast unto the means which produce tranquillity and security for the people of the whole world. This span-wide world is but one region and one native land. Abandon that glory which is the cause of discord, and turn unto that which promotes harmony.
(Baha'u'llah, Compilations, Baha'i Scriptures, p. 149)
Were man to appreciate the greatness of his station and the loftiness of his destiny he would manifest naught save goodly character, pure deeds, and a seemly and praiseworthy conduct. If the learned and wise men of goodwill were to impart guidance unto the people, the whole earth would be regarded as one country. Verily this is the undoubted truth.
(Baha'u'llah, Tablets of Baha'u'llah, p. 171)
Blessed and happy is he that ariseth to promote the best interests of the peoples and kindreds of the earth. In another passage He hath proclaimed: It is not for him to pride himself who loveth his own country, but rather for him who loveth the whole world. The earth is but one country, and mankind its citizens.
(Baha'u'llah, Tablets of Baha'u'llah, p. 167)
HUMANISM
1. Humanism is ethical. It affirms the worth, dignity and autonomy of the individual and the right of every human being to the greatest possible freedom compatible with the rights of others. Humanists have a duty of care to all of humanity including future generations. Humanists believe that morality is an intrinsic part of human nature based on understanding and a concern for others, needing no external sanction.
3. Humanism supports democracy and human rights. Humanism aims at the fullest possible development of every human being. It holds that democracy and human development are matters of right. The principles of democracy and human rights can be applied to many human relationships and are not restricted to methods of government.
From the Amsterdam Declaration 2002
HUMAN RIGHTS
Article 1.
All human beings are born free and equal in dignity and rights. They are endowed with reason and conscience and should act towards one another in a spirit of brotherhood.
Article 2.
Everyone is entitled to all the rights and freedoms set forth in this Declaration, without distinction of any kind, such as race, colour, sex, language, religion, political or other opinion, national or social origin, property, birth or other status. Furthermore, no distinction shall be made on the basis of the political, jurisdictional or international status of the country or territory to which a person belongs, whether it be independent, trust, non-self-governing or under any other limitation of sovereignty.
Universal Declaration of Human Rights
1. A Global Ethic: The Declaration of the Parliament of the World's Religions Continuum Publishing Company, New York, 1993