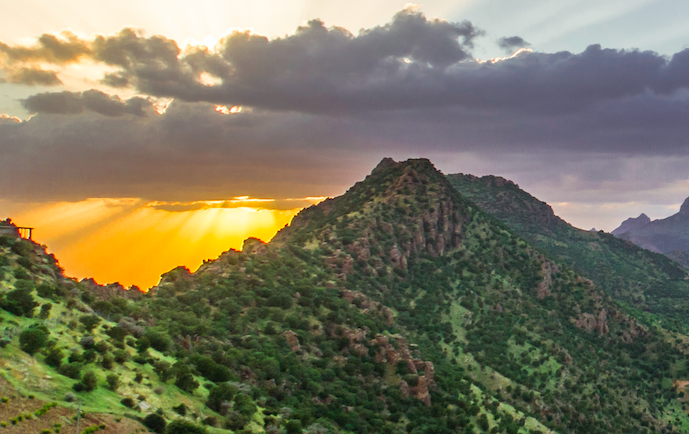 For two years, Bahá'u'lláh's whereabouts were unknown to his friends and family. After their arrival in Baghdad, the dispirited remnants of the followers of the Bab began to gravitate towards Bahá'u'lláh as he worked to restore their spirits. His rising prestige and influence began to excite envy and disunity. Bahá'u'lláh's response to this situation was to absent himself entirely from human company. In April 1854 he left.
In the early days of Our arrival in this land, when We discerned the signs of impending events, We decided, ere they happened, to retire. We betook Ourselves to the wilderness, and there, separated and alone, led for two years a life of complete solitude. From Our eyes there rained tears of anguish, and in Our bleeding heart there surged an ocean of agonizing pain. Many a night We had no food for sustenance, and many a day Our body found no rest. By Him Who hath My being between His hands! notwithstanding these showers of afflictions and unceasing calamities, Our soul was wrapt in blissful joy, and Our whole being evinced an ineffable gladness. For in Our solitude We were unaware of the harm or benefit, the health or ailment, of any soul. Alone, We communed with Our spirit, oblivious of the world and all that is therein. … By the righteousness of God! Our withdrawal contemplated no return, and Our separation hoped for no reunion. The one object of Our retirement was to avoid becoming a subject of discord among the faithful, a source of disturbance unto Our companions, the means of injury to any soul, or the cause of sorrow to any heart.[1]
Bahá'u'lláh clothed himself as a dervish (an itinerant wanderer who has taken a vow of poverty and lives in austerity) and he withdrew alone to the mountain of Sar-Galu in the highlands of Kurdistan. His begging bowl during that time is preserved in the International Baha'i Archives.
Bahá'u'lláh lived as a hermit in the caves and ruins on the mountain. Only one person,Abu'l Qasim, knew where he had gone. Bahá'u'lláh had him asked to help him by bringing food to him from time to time in the village of Sulaymaniyyih. In 1844, Suliymaniyyih was described by a British naval commander as "a collection of small and ruinous houses, bearing a more mean appearance than, I believe, the most wretched hamlet in England".  The local people only knew Baha'u'llah as the "Dervish Muhammad of Iran".
We led for a time a life of complete solitude. We sought shelter upon the summit of a remote mountain which lay at some three days' distance from the nearest human habitation. The comforts of life were completely lacking.
The birds of the air were our companion and the beasts of the field our associate …
That Bahá'u'lláh was more than appeared began to be realised by the local population when a sample of his calligraphy came to Shaykh Ismail, a local Sufi religious teacher.
As recalled by Bahiyyih Khanum, Bahá'u'lláh's daughter, one day a school boy who had been punished and sent out for his poor writing was weeping outside. A holy man came by and asked him why he was weeping. He said to the boy, "Do not grieve, I will set you another copy, and teach you to write well."
In an age of illiteracy, the quality of Bahá'u'lláh's penmanship was a mark of a noble education. Shaykh Ismail and his followers, came to know Bahá'u'lláh and in one of their meetings Bahá'u'lláh wrote at their request a poem of 2000 verses.
Like Moses, Jesus, Muhammad and Buddha before him, Bahá'u'lláh's withdrawal into the wilderness was the prelude to a mission to reform the human condition.
In Baghdad, the morale of the small band of followers of the Bab had quickly sunk during Bahá'u'lláh's absence, and his family and friends became increasingly desperate to find him.
After two years, the clue they needed came from the untimely death of Abu'l Qasim, who in one of his journeys was set upon by thieves and left mortally wounded. Before his death, he told his rescuers that his money and possessions belonged to Darvish Muhammad of Iran in the highlands of Kurdistan. When this became known in Baghdad, the family guessed that this must be Bahá'u'lláh. They sent out two friends to search for him and implore him to return.
The article, Bahá'u'lláh's Love, describes the meeting between Bahá'u'lláh and his son Abdu'l Baha, on Baha'u'llah's return.
Immediately before he arrived back in Baghdad, Bahá'u'lláh told his travelling companion that these would be his last days of peace and tranquillity on this Earth.
Sources:
H.M Balyuzi, Baha'u'llah, the King of Glory, Chapter 20
Myron H. Phelps, The Master in Akka, pp 22-30
Image Credits:  Creative commons, attribution. Extract from: Sulaimaniya – Sargalu, by Rebaz Nash. https://commons.wikimedia.org/wiki/File:Sunset_from_Daban_mountain.jpg
(This article is the 11th in a series of what I hope will be 200 articles in 200 days for the 200th anniversary of the birth of Bahá'u'lláh. The anniversary is being celebrated around the world on 21 and 22 October 2017, The articles are simply my personal reflections on Bahá'u'lláh's life and work. Any errors or inadequacies in these articles are solely my responsibility.)