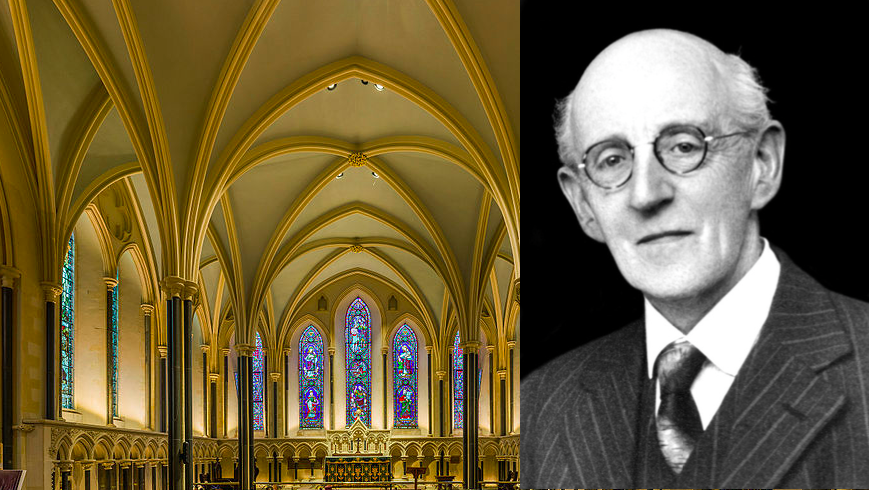 This article needs to begin with some of George Townshend's words – as he was above all a writer.
The "Hidden Words" is a love-song. It has for its background the romance of all the ages—the Love of God and Man, of the Creator and His creature. … Strange, … that this devotional volume, so beautiful in its thought and also (it is said) in the classic purity of its style, should never have drawn to itself the attention of an English scholar and should remain after seventy years unknown to the religion and the culture of the West.[1]
George Townsend wrote this in 1930, almost 90 years ago. The strangeness still persists.  How many the veils.
His reflections on the journey of the soul described in Bahá'u'lláh's Seven Valleys also merit quotation:
And when the Seven Valleys are traversed to the end; and the Goal is won and Thy Paradise attained, what will remain for any servant of Thine, but to begin his journey again and travel on and on for ever through infinitudes of wisdom and love, passing from light to fuller light, from Truth to further Truth, from Beauty to a more perfect Beauty?[2]
George Townshend was born in Ireland in 1876. In his early life he worked as a journalist for the Irish Times, graduated in law and worked in a law firm. Neither life satisfied him. He journeyed to America – athletic in his youth – he spent two years in the wilderness and working as a logger in the Rocky Mountains and Yellowstone Park. Eventually he was to go on to become a leading clergyman of the Anglican Church: serving as Archdeacon of Clonfert and later as Canon of St Patrick's Cathedral in Dublin until the age of 70.
In the 1920s he became a Baha'i. In 1926 he wrote to Shoghi Effendi, then head of the Baha'i Faith, offering to assist with English translation – an offer that was gratefully accepted. It was to lead to numerous collaborations in which Townshend assisted with refining English expression of translations prepared by Shoghi Effendi, or writing introductions to his works. This alone makes his life one of significance. Of his writing Shoghi Effendi observed:
…your excellent judgement, your literary ability and your keen sympathy and devoted care in revising …passages which I have rendered into English are deeply appreciated by me and I shall make use of your suggestions …I hope to send you some more in future …"[3]
Like many Baha'is who live in two worlds in a variety of ways – George Townshend increasingly yearned for greater coherence in his life and found his occupation as a clergyman at variance with his beliefs.
For years he sought a way to leave the clergy but his family obligations and his inability to find other suitable employment stood in the way.  This did not prevent him openly stating his beliefs. In 1934, he wrote a work setting out Bahá'u'lláh's teachings of progressive revelation. He expected to lose his job – as a result of the expression of views which were clearly outside the bounds of Christian orthodoxy. In 1938, he wrote yet another work – the Heart of the Gospels – appealing to Christians to respond to the call of Bahá'u'lláh.
Yet despite his expectations his outspoken proclamation of Baha'i teachings did not result in his dismissal.  He was clearly held in high regard by his Christian colleagues – and perhaps he did not give them enough credit. In 1940 he openly proclaimed Bahá'u'lláh from the pulpit in St Patrick's Cathedral.
"…I spoke of harmony and concord as the purpose of Christianity and all true religion, said the religion of Baha'u'llah was today the only religion I could find living up to this, and pleaded that we should follow suit, and closed by affirming that the future belongs to the Church that did follow suit…the Dean of the Cathedral did what he never did to me before- he volunteered how much he liked the sermon and what a change it was from what they had been listening to of late!"[4]
His family situation prevented his resignation – nor would his colleagues dismiss him. Eventually even his colleagues recognised the incoherence of the situation and following a discussion with his Bishop and consultation with the National Spiritual Assembly of the Baha'is of the United Kingdom, George Townshend resigned, short of retirement, losing thereby his pension and facing the prospect of poverty in old age. The Baha'i community supported him and in explaining his resignation to his church he wrote an essay explaining his beliefs to both clergy and congregation. The essay was widely reproduced – over 20,000 copies were made and distributed in English speaking countries. They evoked very little response.
Despite his live of devoted and sacrificial service – he fell into depression – and wrote to Shoghi Effendi setting out his struggles. To his surprise Shoghi Effendi's reply was a telegram appointing him a Hand of the Cause of God: a steward of the Baha'i Faith.  The appointment re-energised his service and he travelled widely in renewed Baha'i service.
In his final years he suffered from Parkinson's disease – despite which he continued his work. George Townshend passed away on 25 March 1957, a few days after the publication of his final work: Christ and Bahá'u'lláh.
---
I am indebted for the details and narrative of George Townsend's life to the summary which appears in Grace L. Sharokh's work Some Early Believers in the West.
(This article is the 57th in a series of what I hope will be 200 articles in 200 days for the 200th anniversary of the birth of Bahá'u'lláh. The anniversary is being celebrated around the world on 21 and 22 October 2017, The articles are simply my personal reflections on Bahá'u'lláh's life and work. Any errors or inadequacies in these articles are solely my responsibility.)
Image Credits:  Image of George Townshend from http://media.bahai.org/detail/9680613 Copyright © Bahá'í International Community.  Overlaid on image of St Patrick's Cathedral Lady Chapel By Diliff (Own work) [CC BY-SA 3.0 (http://creativecommons.org/licenses/by-sa/3.0) or GFDL (http://www.gnu.org/copyleft/fdl.html)], via Wikimedia Commons