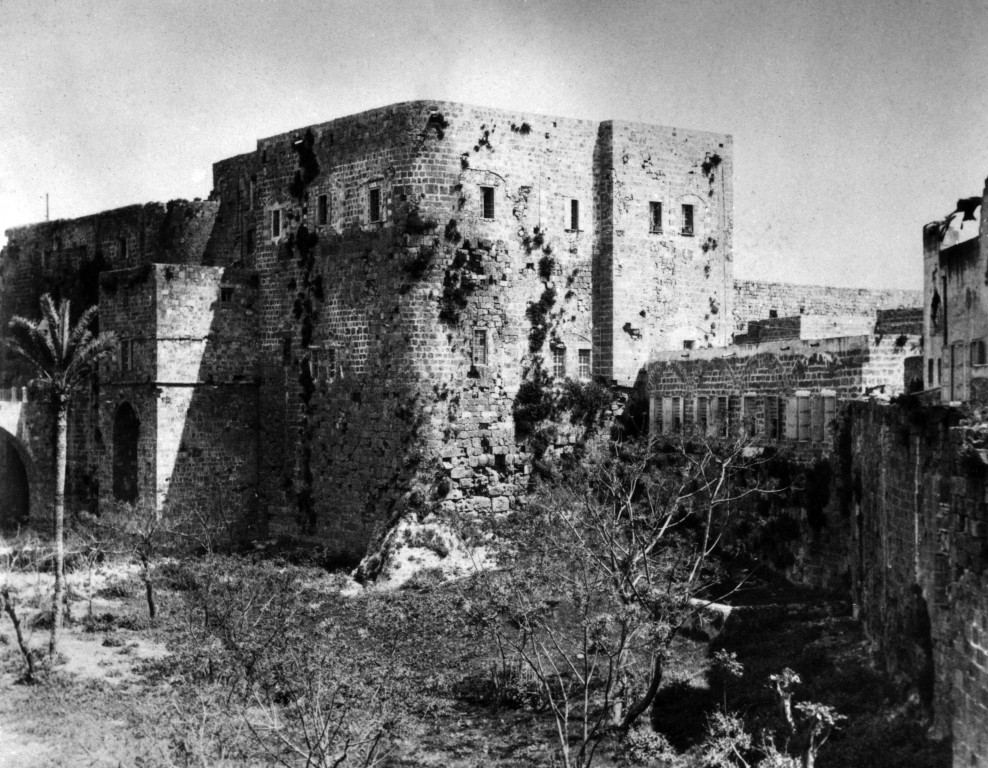 Yesterday we read Bahá'u'lláh's good news. Yet Bahá'u'lláh's own life was full of suffering.
"O the misery of men! No Messenger cometh unto them but they laugh Him to scorn." …"Each nation hath plotted darkly against their Messenger to lay violent hold on Him, and disputed with vain words to invalidate the truth."[1]
Bahá'u'lláh was exiled from place to place at the whim of absolute rulers who held his life and that of his loved ones in their hands.
I have been, most of the days of My life, even as a slave, sitting under a sword hanging on a thread, knowing not whether it would fall soon or late upon him. And yet, notwithstanding all this We render thanks unto God,…[2]
When he arrived at his final place of exile, the prison city of Akka, a hostile population had gathered to mock the "God of the Persians".[3] How different the scene from the tears of the people who came to weep at their separation from him on Bahá'u'lláh's departure from Baghdad.
The Sultan's order condemned him and his company of followers to perpetual imprisonment – strict incarceration – and forbade communication with the local inhabitants.
Bahiyyih Khanum, Bahá'u'lláh's daughter, who was exiled with her father recalled:
All the townspeople had assembled to see the arrival of the prisoners. Having been told that we were infidels, criminals, and sowers of sedition, the attitude of the crowd was threatening. Their yelling of curses and execrations filled us with fresh misery. We were terrified of the unknown! We knew not what the fate of our party, the friends and ourselves would be.[4]
Bahá'u'lláh did not see humiliation:
"Upon Our arrival … We were welcomed with banners of light, whereupon the Voice of the Spirit cried out saying: 'Soon will all that dwell on earth be enlisted under these banners.'"[5]
For over two years Bahá'u'lláh was consigned to a prison he designated the Most Great Prison. For a further seven years he was confined to the prison city. For 40 years he lived a life of banishment – never to return home.
Bahiyyih Khanum describes the conditions on arrival in the prison city:
When we had entered the barracks the massive door was closed upon us and the great iron bolts thrown home. I cannot find words to describe the filth and stench of that vile place. We were nearly up to our ankles in mud in the room into which we were led. The damp, close air and the excretions of the soldiers combined to produce horrible odours….[6]
The conditions were such two brothers who had been imprisoned with Baha'u'llah died shortly after:
… they were taken captive by the tyrants, they were shut in the Most Great Prison, where they shared the lot of these homeless wanderers. Here, during the early days at 'Akká, with complete detachment, with ardent love, they hastened away to the all-glorious Realm. For our ruthless oppressors, as soon as we arrived, imprisoned all of us inside the fortress in the soldiers' barracks, and they closed up every issue, so that none could come and go. At that time the air of 'Akká was poisonous, and every stranger, immediately following his arrival, would be taken ill. Muḥammad-Báqir and Muḥammad-Ismá'íl came down with a violent ailment and there was neither doctor nor medicine to be had; and those two embodied lights died on the same night, wrapped in each other's arms. They rose up to the undying Kingdom, leaving the friends to mourn them forever. There was none there but wept that night.[7]
All of them suffered:
All our people were huddled together on the damp earth floor of the barracks; with little water to drink, and that very bad, with no water with which to bathe, and scarcely enough for washing their faces. Typhoid fever and dysentery broke out among them. Every one in our company fell sick excepting my brother, my mother, an aunt, and two others of the believers. We were not allowed a physician; we could not procure medicine.[8]
This suffering is in the way of things. They are the birth pangs of human emancipation. It has always been so. Bahá'u'lláh writes:
Thou hast known how grievously the Prophets of God, His Messengers and Chosen Ones, have been afflicted. Meditate a while on the motive and reason which have been responsible for such a persecution. At no time, in no Dispensation, have the Prophets of God escaped the blasphemy of their enemies, the cruelty of their oppressors, the denunciation of the learned of their age, who appeared in the guise of uprightness and piety. Day and night they passed through such agonies as none can ever measure, except the knowledge of the one true God, exalted be His glory.

Consider this wronged One…. God grant that, with a penetrating vision and radiant heart, thou mayest observe the things that have come to pass and are now happening, and, pondering them in thine heart, mayest recognize that which most men have, in this Day, failed to perceive.[9]
As my tribulations multiplied, so did my love for God and for His Cause increase, in such wise that all that befell Me from the hosts of the wayward was powerless to deter Me from My purpose. Should they hide Me away in the depths of the earth, yet would they find Me riding aloft on the clouds, and calling out unto God, the Lord of strength and might. I have offered Myself up in the way of God, and I yearn after tribulations in love for Him, and for the sake of His good-pleasure. Unto this bear witness the woes which now afflict Me, the like of which no other man hath suffered. Every single hair of Mine head calleth out that which the Burning Bush uttered on Sinai, and each vein of My body invoketh God and saith: "O would I had been severed in Thy path, so that the world might be quickened, and all its peoples be united!" Thus hath it been decreed by Him Who is the All-Knowing, the All-Informed.[10]
---
This article is the 43rd in a series of what I hope will be 200 articles in 200 days for the 200th anniversary of the birth of Bahá'u'lláh. The anniversary is being celebrated around the world on 21 and 22 October 2017, The articles are simply my personal reflections on Bahá'u'lláh's life and work. Any errors or inadequacies in these articles are solely my responsibility.)
Image Credits: The prison in Akka to which Bahá'u'lláh and his followers were consigned. The two windows farthest right on the second floor show the room that Bahá'u'lláh occupied in the prison.
http://media.bahai.org/detail/4637426 Copyright © Bahá'í International Community